Understanding the fabric of your clothing is important if you want to take good care of it. Different fabrics have different properties that can strongly affect how you should care for them. For example cotton is a very absorbent fabric which means it takes up a lot of water and needs to be washed in cold water with a mild detergent. 
To help make sense of fabric and better understand it let's take a look at the twelve most popular types of fabric. Please keep in mind that there are actually hundreds of different types of fabric; this blog is simply focusing on these twelve.
With all of the fabric choices available it can be difficult to know what might be best for your project. To help clear up some of this confusion we will take a look at the 12 most popular types of fabric. Remember that there are actually hundreds of different fabrics out there; this is just a glimpse into the many different types.
Natural vs. Synthetic Fabrics
The first differentiating detail between fabrics comes down to the type of fiber used. There are two types: natural and synthetic. Natural fibers are obtained from plants and animals for example cotton comes from plants whilst silk comes from silkworms. Synthetic fibers on the other hand are made entirely from synthetic matter - created by man.
Woven vs. Knitted Fabrics
There are two types of fabric production: woven and knitted. Woven fabrics are created by weaving two pieces of yarn together horizontally and vertically on a loom. Since the yarn runs at a right angle the fabric doesn't stretch and is usually more taut and sturdy than knitted fabrics. Fabric is made up of a weft (when the yarn goes across the width of the fabric) and a warp (when the yarn goes down the length of the loom). There are three types of woven fabric: plain weave satin weave and twill weave. Chiffon, crepe, denim linen satin, and silk are all examples of popular woven fabrics.
When you're thinking about fabric for a knit piece think of a hand-knit scar. The yarn is formed into an interconnected loop design which allows it to stretch significantly.
 Knits are known for their elasticity and ability to maintain shape. There are two types of knit fabric: warp-knitted and weft-knitted. Some popular types of knit fabric include lace lycra and mesh. Let's take a look at the 12 different types of fabric.
Chiffon Fabric
Chiffon is a lightweight sheer fabric made from twisted yarn. The yarn is usually made of silk nylon or polyester. Chiffon can be easily dyed and is frequently seen in scarves blouses and dresses - including wedding gowns and prom dresses - due to its light flowing material.
Cotton Fabric
Cotton is one of the most popular materials in the world. The fluffy fiber is extracted from the cotton plant in a process called ginning. The fiber is then spun into cloth where it can be woven or knit. This fabric is praised for its comfort versatility and durability. It's also hypoallergenic and quickly dries.
Crepe Fabric
Crepe is a versatile fabric made from a variety of materials. It's often made from cotton and silk both of which are strong and lightweight. Because it's so soft crepe is perfect for clothing items like suits and dresses. In addition to clothing crepe can be used in accessories such as scarves and shawls. Crepe is easy to work with making it a great choice for many types of projects.
Demin Fabric
There are many different types of fabrics out there and denim is one of them. Denim is a woven cotton twill fabric made from entwined cotton wrap yarn and white cotton stuffing yarn. It is often known for its intense texture durability and comfortability. Denim can be dyed with different colors to create different shades of blue jeans but it's also used for jackets and dresses.
Lace fabric
Lace is an elegant delicate fabric made from looped twisted or knitted yarn or thread. Originally made from silk and linen lace is now made with cotton thread wool or synthetic fibers. There are two main elements to lace: the design and the ground fabric which holds the pattern together. Lace is considered a luxury textile as it takes time and skill to create a beautiful piece.
Leather Fabric
Leather is a unique fabric made from animal hides. Depending on the animal different parts of the hide will be used to create leather. Leather is known for its durability wrinkle-resistance and stylish look. Suede is a type of leather that is usually made from lamb but has the "flesh side" turned outward and brushed to create a soft velvety surface. Leather and suede are often found in jackets shoes and belts because they keep the wearer warm in cold weather.
Linen Fabric
Linen is one of the oldest materials known to humans. Made from natural fibers this strong lightweight fabric comes from the flax plant. These strong strands are spun into yarn which is then blended with other fibers. Linen is absorbent cool smooth and durable. It can be machine-washed but it needs regular ironing - it wrinkles easily. Though it's most commonly used for clothing items such as suits jackets dresses blouses and pants linen is also used for tablecloths bedsheets napkins and towels.
Satin Fabric
Satin is one of the three major textile weaves and is made from a fiber called silk. Silk satin was originally made from silk but today it is made from polyester wool and cotton. Satin is luxurious glossy elegant and smooth on one side and matte on the other. It's often used in evening gowns lingerie corsets blouses skirts coats outerwear and shoes. It can also be used as a backing for other fabrics.
Silk Fabric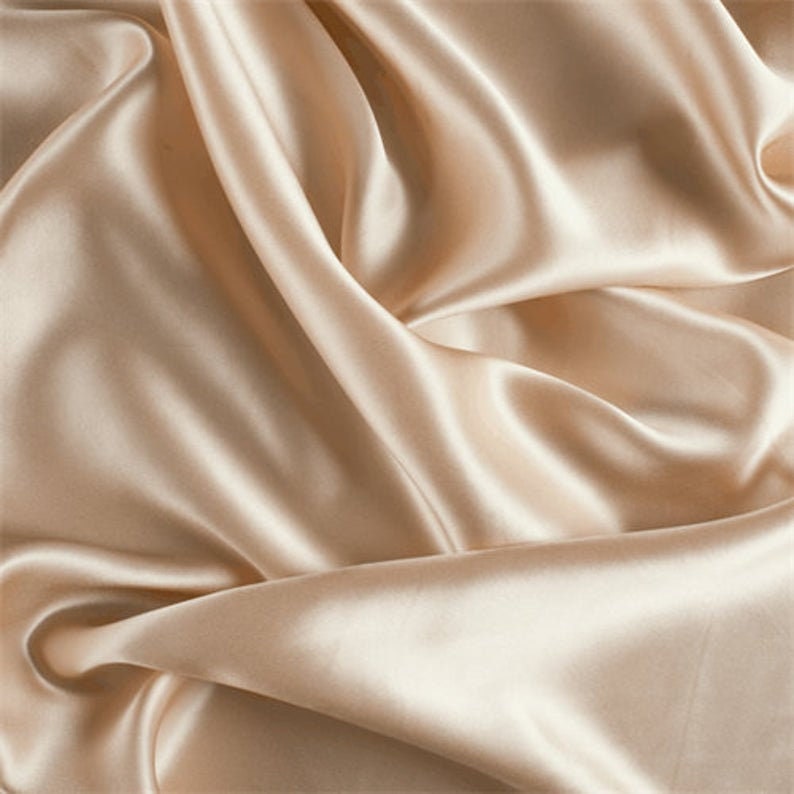 Originally silk satin was made from silk but today it is made from polyester wool and cotton. Satin is luxurious glossy elegant smooth on one side and matte on the other. It's often used in evening gowns lingerie corsets blouses skirts coats outerwear and shoes. It can also be used as a backing for other fabrics.
Synthetics
Unlike the other fabrics on this list synthetics actually cover several fabric types. They don't shrink and are usually resistant to water-based stains. Polyester is a synthetic fiber made up of many small molecules. It is strong flexible and resilient. Polyester also lasts a long time and can handle lots of wear and tear.
Polyester is a synthetic fiber and fabric made from petrochemicals. Though it is strong durable and resistant to wrinkles and stains polyester isn't often breathable and doesn't absorb liquids well. Instead it's designed to move moisture away from the body. Most T-shirts trousers skirts and sportswear are made from polyester.
One of the most popular synthetic materials is spandex. It's made from polyurethane and is known for its lightweight elasticity and strength. After being blended with several fiber types spandex becomes a comfortable form-fitting material often used in jeans hosiery dresses sportswear and swimwear.
Wool Fabric
Our next type of fabric is wool. This natural fiber comes from sheep goat llama or alpaca fleece. It can be knitted or woven. Wool is often noted for being hairy and itchy though it keeps the body warm and is durable and long-lasting.
Velvet Fabric
Our final fabric is Velvet is a fabric with a unique texture and appearance. It is usually luxurious and expensive due to its shiny rich fabric finish and complex production process. This heavy woven fabric has a smooth pile effect on one side. The quality of the Velvet depends on the density and anchoring of the pile tufts to the base fabric.